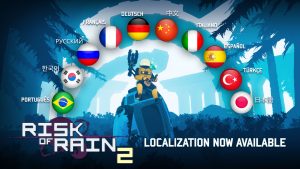 Hopoo Games and Gearbox Publishing is excited to bring 10 additional languages with today's new patch! Risk of Rain 2 is now localized in 10 additional languages to bring the rogue-like chaos closer to home for players around the world. The new languages include Simplified Chinese, Korean, French, German, Italian, Japanese, Portuguese, Russian, Spanish, and Turkish!
"We've been lucky enough to have the support of fans from all over the world for the Risk of Rain series," said Paul Morse of Hopoo Games. "It has always been our goal to include more languages and be able to welcome players from all corners of the globe to our community."
Read the patch notes, and buy the game, on Steam.
Join the discussion for Risk of Rain 2 on the Official Discord and Gearbox Forums and follow Risk of Rain 2 on Facebook and Twitter!