Tribes of Midgard Coming to PlayStation 5 and PC in 2021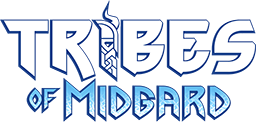 Gearbox Publishing Partners with Norsfell Games for Next-Gen and PC Title
FRISCO, Texas – (June 11, 2020) – Tribes of Midgard, a new game developed by Norsfell will launch in 2021, Gearbox Publishing and Norsfell Games announced today at the PlayStation 5 digital showcase. The new title will be available on PlayStation 5 and on PC through Steam.
In Tribes of Midgard players can play solo or co-op with a team of up to 10 players to resist the oncoming invasion of giants during Ragnarök. Set in worlds full of dark creatures, hidden gods, and abundant materials to be uncovered, players begin the game as a Viking living in a village that houses the Seed of Yggdrasil, which is the last bastion that protects the gods from the other realms. You can see the latest trailer here: https://youtu.be/xIcXZQwik_c
"We are thrilled the great team at Norsfell chose to work with Gearbox Publishing. Their vision, talent, and tenacity have moved us so much we are sure gamers will love the game and Gearbox Publishing is happy to do our part." said Steve Gibson, president of Gearbox Publishing. "Tribes of Midgard is a game we are proud to now call part of the Gearbox Publishing family that we can't wait to share with everyone."
Fans will need to explore the wilderness to craft new weapons and be prepared to defend the sacred center of your village from the grim shadows from Helheim that prey upon its power. All the while, giants stalk ever closer to the village, seeking to destroy Midgard and fulfill the prophecy of the end of the world.
"We've been building Tribes of Midgard with the community from the start and have big plans for the game, so Gearbox came as the perfect fit to realize our vision. We couldn't be more excited to bring the game to a full launch next year," said Julian Maroda, founder and CEO of Norsfell. "We're very eager to push the boundaries of what's possible with Gearbox and Sony's support."
Receive additional Tribes of Midgard announcements at Twitter and Facebook and by signing up at www.tribesofmidgard.com to receive email updates.
For logos, screenshots, and video assets, please refer to the Tribes of Midgard press kit.
About Gearbox Publishing
Founded in 2016, Gearbox Publishing was established with the goal of helping developers around the world bring their products to market while retaining their unique creative visions. The mission began with the critically-acclaimed Homeworld Remastered Collection for PC, and has since been followed by many partnerships that include Compulsion Games' We Happy Few, Hopoo Games Risk of Rain 2, and System Era Softworks' Astroneer. Gearbox Publishing remains committed to its mission to entertain the world and become the most developer-friendly publisher in the industry. Learn more at www.gearboxpublishing.com.
About Norsfell
Norsfell is a game developer based in Montreal, Canada. Like the great Vikings from the past, they too sail over the oceans, helped by the gods. The studio creates games for all platforms that have already been downloaded more than 1 million times and won numerous awards. Norsfell was founded in 2013 with one mission in mind: to forge new genres that bring people together. Learn more at www.norsfell.com.
###