Risk of Rain 2 Updates Incoming! Hidden Realms (Console) Now Live and Artifacts 2.0 (PC) Releases March 31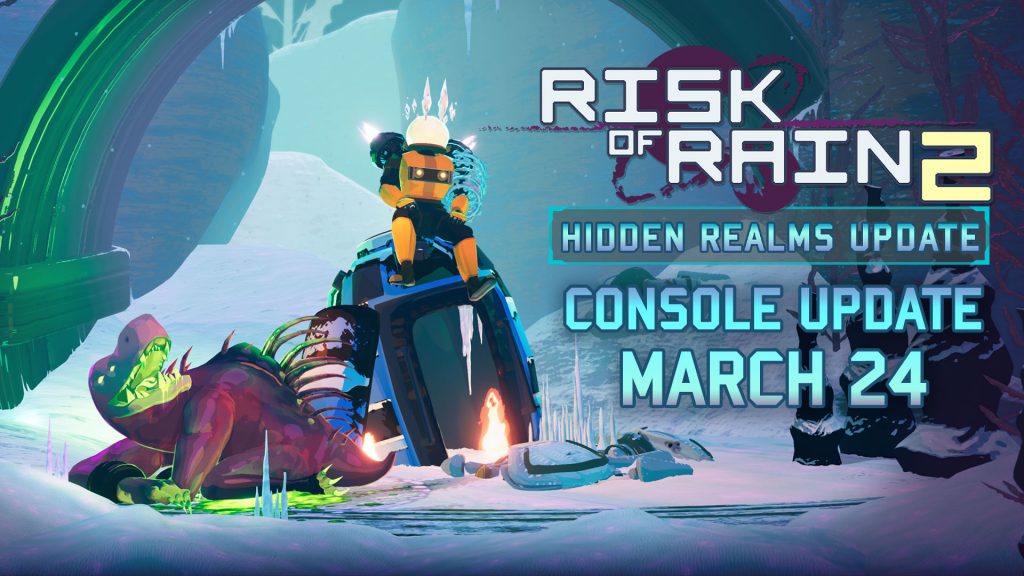 Test the waters for free on Xbox One starting March 26
FRISCO, Texas – Mar. 24, 2020 – Hopoo Games and Gearbox Publishing today announced two new updates coming to the hit roguelike Risk of Rain 2. Hidden Realms Update is now available to download for the Xbox One, PlayStation 4, and Nintendo Switch. The Artifacts 2.0 Update for PC will be available on March 31, introducing Artifacts along with a returning stage, monsters, items, and Survivor-specific unlockables. More details on each of these updates can be found below.
In addition to content updates, Risk of Rain 2 will be free to download and play on Xbox One and Xbox One X for Xbox Live Gold and Xbox Game Pass Ultimate members as a part of Microsoft's Free Play Days on March 26, 12:01AM PT all the way until March 29, 11:59PM. Following Free Play Days, Risk of Rain 2 will be 40% off on the Microsoft store from March 31 to April 6. Also to celebrate Risk of Rain 2's one year anniversary on Steam, the game will be on sale for 20% off from March 31 to April 6, and playable for free on Steam Free Weekends starting on April 2 through April 6. Nintendo Switch users can get Risk of Rain 2 for 50% off on the Nintendo Switch eShop until April 2.
Hidden Realms Update: Hidden Realms Update is now available on PlayStation 4, Xbox One and Nintendo Switch which introduces the returning Survivor Acrid, new bosses, alternative layouts system and even more loot to the game.
Artifacts 2.0 Update:
Artifacts: Artifacts make their Risk of Rain 2 debut. These treasures can be unlocked by completing in-game challenges and then equipped at the start of a run to dramatically modify aspects of the game, adding variety and challenge. Some are new, some are returning, and range from "oh fun" to "who hurt you?"
New Stage, Monsters and Hidden Boss: Sky Meadow returns as a 5th stage, players will encounter new familiar monsters, and a new hidden boss awaits those clever enough to find them.
Skill Variants: Commando, Huntress, Engineer and Acrid receive more unlockable skill variants to shock and awe in new ways.
New Loot: New equipment, items, and a Lunar Item of dubious purpose enter the world for Survivors to discover.
Engineer Skin: Engineer enthusiasts can earn a skin for their Survivor by completing an in-game challenge.
Press and media can find assets for Risk of Rain 2 here.
Risk of Rain 2, developed by Hopoo Games and published by Gearbox Publishing, is a third-person roguelike shooter that earned over one million sales within its first month in Steam Early Access and  Steam Awards nomination in 2019. Squad up with up to three friends in Risk of Rain 2 on Steam Early Access, Xbox One, PlayStation®4, and Nintendo Switch™ today.
About Hopoo Games
A small team who started out as two students from the University of Washington, Hopoo Games made their mark with the award-winning indie success, Risk of Rain in 2013, followed by Deadbolt in 2016. Now a team of indie veterans, they've been hard at work on a hotly anticipated sequel to Risk of Rain featuring 3D graphics and third person shooter mechanics. Learn more at http://hopoogames.com/.
About Gearbox Publishing
Founded in 2016, Gearbox Publishing was established with the goal of helping developers around the world bring their products to market while retaining their unique creative visions. The mission began with the critically-acclaimed Homeworld Remastered Collection for PC, and have since been followed by many partnerships that include Epic's Fortnite, tinyBuild's Hello Neighbor, and Compulsion Games' We Happy Few. Gearbox Publishing continues to remain committed to its mission to entertain the world and become the most developer-friendly publisher in the industry. Learn more at https://www.gearboxpublishing.com.
# # #
Media Contacts
Gearbox Publishing
Austin Malcolm
Austin.Malcolm@gearboxpublishing.com
+1-972-312-8202
TriplePoint for Risk of Rain 2
gearbox@triplepointpr.com
+1-415-955-8500