Acrid Joins the Fray in Risk of Rain 2 (PC) – Hidden Realms Update Available Now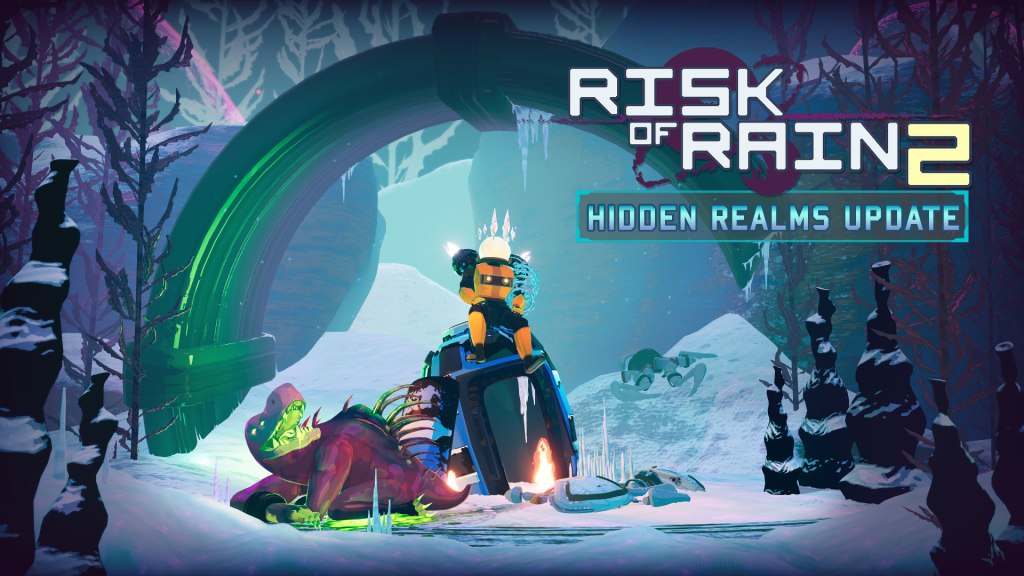 Steam Early Access owners can explore two new Hidden Realms, alternate layouts for stages, and more with the free update
FRISCO, Texas – Dec. 17, 2019 – Hopoo Games and Gearbox Publishing today released the Hidden Realms Update for Risk of Rain 2 on Steam Early Access. Players can unlock and assume control of a new Survivor, Acrid, a melee-range hybrid who uses powerful poisons to melt tanky enemies. The Hidden Realms Update also introduces two new hidden realms, alternative layouts, more adversaries, and even more loot along with changes suggested by the community. The update is free for all owners of Risk of Rain 2 on Steam Early Access.
Check out the Hidden Realms trailer here: https://www.youtube.com/watch?v=HAwlbtZ3W2w
Acrid's infectious skills focuses melee-range hybrid combat mixed with strong damage over time abilities:
Passive: POISON – Certain attacks apply poison, dealing damage over time but cannot kill.
Primary Fire: VICIOUS WOUNDS – Maul an enemy, where every third hit does double damage.
Secondary Fire: NEUROTOXIN – Spit toxic bile at a range that damages and poisons enemies.
Utility: CAUSTIC LEAP – Leap into the air, dealing damage, stunning, and poisoning enemies on impact. Leaves a pool of acid that deals damage.
Special: EPIDEMIC – Release a deadly poison that deals damage and poisons enemies. The disease continually spreads to up to 20 targets.
New game features:
New Bosses and Monster – The Scavenger boss, Void Reaver monster, and an additional secret boss join the fight.
New Hidden Realms – Two new hidden realms can be discovered.
Alternative Layouts – The new Alternate Layouts system allows for some maps to have entirely new layouts, starting with Titanic Plains and Distant Roost.
New Items, Equipment, Lunars and more – An arsenal of new items and equipment is now at players' disposal. This includes two new Lunar items, Adaptive Chests, Overgrown 3D Printer, seven new items, and a new type of equipment called the Jade Elephant.
Community Suggested Changes – Quality-of-life improvements suggested by the community have been implemented.
Press and media can find assets for Risk of Rain 2 here. Complete patch notes can be found on the Risk of Rain 2 Steam hub.
Risk of Rain 2, developed by Hopoo Games and published by Gearbox Publishing, is a third-person roguelike shooter that earned over one million sales within its first month in Steam Early Access and  Steam Awards nomination in 2019. Squad up with up to three friends in Risk of Rain 2 on Steam Early Access, Xbox One, PlayStation®4, and Nintendo Switch™ today.
About Hopoo Games
A small team who started out as two students from the University of Washington, Hopoo Games made their mark with the award-winning indie success, Risk of Rain in 2013, followed by Deadbolt in 2016. Now a team of indie veterans, they've been hard at work on a hotly anticipated sequel to Risk of Rain featuring 3D graphics and third person shooter mechanics. Learn more at http://hopoogames.com/.
About Gearbox Publishing
Founded in 2016, Gearbox Publishing was established with the goal of helping developers around the world bring their products to market while retaining their unique creative visions. The mission began with the critically-acclaimed Homeworld Remastered Collection for PC, and have since been followed by many partnerships that include Epic's Fortnite, tinyBuild's Hello Neighbor, and Compulsion Games' We Happy Few. Gearbox Publishing continues to remain committed to its mission to entertain the world and become the most developer-friendly publisher in the industry. Learn more at https://www.gearboxpublishing.com.
# # #
Media Contacts
Gearbox Publishing
Austin Malcolm
Austin.Malcolm@gearboxpublishing.com
+1-972-312-8202
TriplePoint for Risk of Rain 2
gearbox@triplepointpr.com
+1-415-955-8500