BULLETSTORM: DUKE OF SWITCH EDITION OUT TODAY FOR THE NINTENDO SWITCH™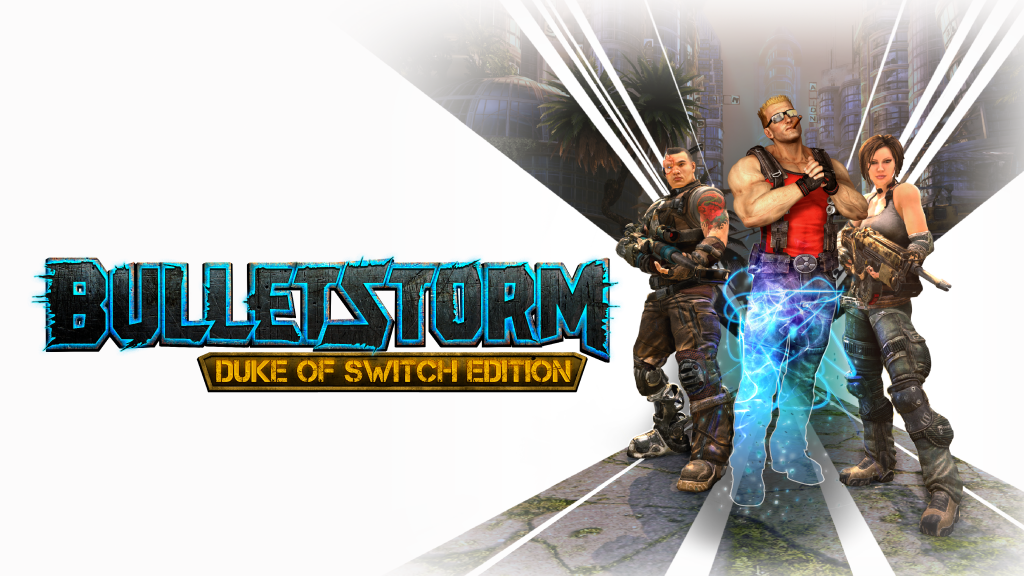 Cult-Classic Shooter Returns for a Digital Launch on the Nintendo eShop™
(PAX West) Frisco, TX– August 30, 2019 – People Can Fly and Gearbox Publishing are pleased to announce Bulletstorm: Duke of Switch Edition as the critically-acclaimed shooter comes to the Nintendo Switch™ today. Battle your way through throngs of Stygia's less than hospitable hosts, performing masterful kills throughout the single-player campaign using Bulletstorm: Duke of Switch Edition's unique Skillshot system that rewards you for executing the most creative and deadly kills imaginable.
Check out the age-gated, action-packed trailer*: https://youtu.be/pXQL8v-Gpp4
Step into the boots of Grayson Hunt, an exiled member of the elite assassin group Dead Echo, after a battle with his former general sends them both crash landing on the abandoned resort planet of Stygia. Grayson must brave the wasteland on his way to confronting the man that once ordered him to do the unthinkable. Will he get his team out alive? Or will he finally quench his thirst for revenge?
Bulletstorm: Duke of Switch Edition also includes the Duke Nukem's Bulletstorm Tour add-on which allows you to play through the entire Bulletstorm campaign as Duke Nukem, the original FPS action hero, featuring brand-new lines from the original voice of Duke!
Bulletstorm: Duke of Switch Edition is now available for digital purchase on the Nintendo eShop™ for $29.99.
Screenshots, logo, trailer* located in the press kit: https://gearboxsoftware.box.com/s/2j6qvnytif9ktdc6hcis9205cmgy6kkb
ESRB: Rated M for Mature. Visit www.esrb.org for more information.
*Due to the videos not being approved for all ages by the ESRB, please note the following message:
"This trailer/video may only be displayed if it is behind an age-gate that: (1) is age-neutral (i.e., requires the user to input their date of birth or select it from a drop-down bar; (2) employs reasonable technical measures to keep underage users from re-entering their age after initially being denied access; and (3) does not display any ESRB rating information on the video player or the age-gate itself. Failure to implement these requirements may jeopardize your ability to obtain material of this nature from us in the future."
About People Can Fly
Established in 2002, People Can Fly is known for recent titles such as Gears of War: Judgment (published in 2013) and Bulletstorm – an original, Unreal Engine 3-powered onslaught of 'kill with skill' gameplay and blockbuster moments published in 2011. The studio made its mark on the shooter genre with its award-winning Painkiller series of games for PC and Xbox prior to shipping Epic's Gears of War for PC. People Can Fly is currently working on another exciting AAA shooter.
About Gearbox Publishing
Founded in 2016, Gearbox Publishing was established with the goal of helping developers around the world bring their products to market while retaining their unique creative visions. The mission began with the critically-acclaimed Homeworld Remastered Collection for PC, and have since been followed by many partnerships that include Epic's Fortnite, Compulsion Games' We Happy Few, and Hopoo Games' Risk of Rain 2. Gearbox Publishing continues to remain committed to its mission to entertain the world and become the most developer-friendly publisher in the industry. Learn more at https://www.gearboxpublishing.com.
###
Gearbox Media Contact:
Austin Malcolm | PR Manager
Austin.Malcolm@gearboxpublishing.com
People Can Fly Media Contact:
Sebastian Wojciechowski / People Can Fly President
sebastian.wojciechowski@peoplecanfly.com