Homeworld 3 Announced for the Franchise's 20th Anniversary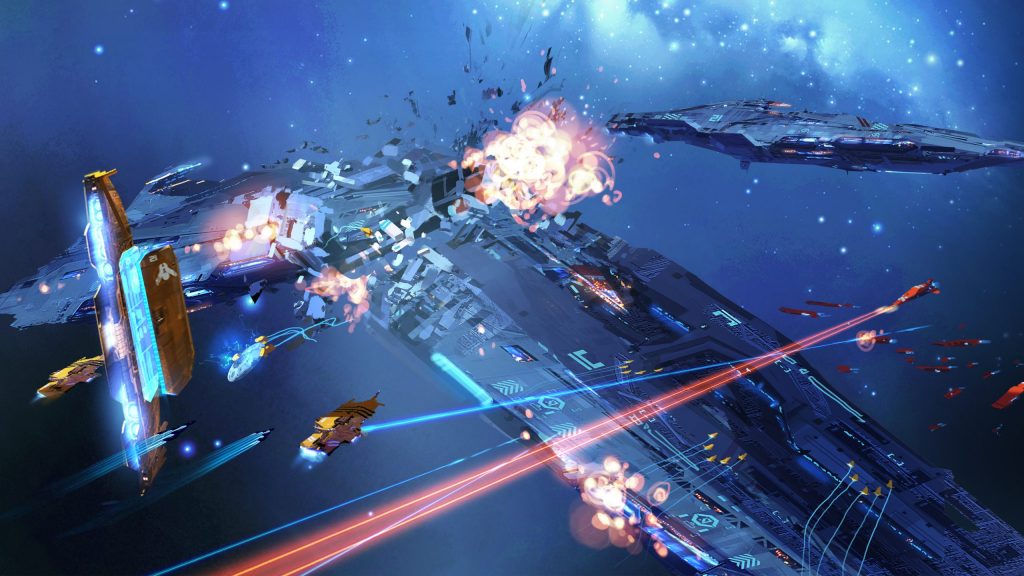 Gearbox Publishing and Blackbird Interactive Announces Pre-Production for the Project
(PAX West) Seattle, WA, August 30, 2019 –  At Gearbox's Main Theater Show at PAX West there was another announcement for a major third installment to a critically acclaimed franchise. Gearbox Publishing together with Blackbird Interactive (BBI) announced that Homeworld 3 is now in pre-production 20 years after the first installment. They are kicking off the production process through a Fig campaign with a $1 funding goal, allowing longtime Homeworld fans to invest and participate in the success of the title.
Check out the announce trailer here: https://youtu.be/J675BQaIuQs
Homeworld 3 will be a true sequel to the legendary space-faring RTS. Blackbird Interactive takes the helm on development, returning the series to its roots with a gripping continuation of the story, fully 3D combat, and the classic RTS elements you expect. In this process, they will be further supported by the veterans of Homeworld Remastered Collection at Gearbox Publishing.
"Homeworld 3 is the last word in epic space combat," says Rob Cunningham, CEO of BBI. "It will capture the mood and tone of Homeworld and deliver it in an exactly expected and juicy, lovely way. There will be an extension of the story that's totally satisfying with some interesting twists and turns, and locations that I think will blow some minds and resonate with existing fans and new fans alike."
Check out the Fig Campaign video here: https://youtu.be/OL9ZBSk5OHI
The project is in its early stages with only a few months into pre-production. The campaign will allow longtime Homeworld fans to become investors in Fig and participate in the game's future success. Additionally, investments and pledges will provide a chance to tell the developers what they expect of Homeworld 3 via a backer-only survey. This survey would include things such as its features, priorities, and even what the collector's edition will include.
"It's a unique experience that only Fig can offer and we're excited for the most open development process in both Blackbird's and Gearbox's history," says Steve Gibson, head of Gearbox Publishing. "You don't just get the game. You get a chance to profit from the financial success too. If you're not interested in that, no worries. We'll see you at launch later down the line."
The Fig campaign will last 30 days with a goal of a single, solitary US dollar. The Fig campaign will offer fans the opportunity to invest or pre-order the game with collectibles.
For more information, please visit www.fig.co/campaigns/homeworld3
Press Kit: https://gearboxsoftware.box.com/s/q1keil8ctdagsrtwhyuptekrlual5sl0
For media requests, please contact Austin Malcolm at Austin.Malcolm@gearboxpublishing.com
In regard to any securities offered under Regulation A+, no money or other consideration is being solicited, and if sent in response, will not be accepted. No offer to buy such securities can be accepted and no part of the purchase price can be received until the offering statement relating to such securities is qualified by the U.S. Securities and Exchange Commission, and any such offer to buy may be withdrawn or revoked, without obligation or commitment of any kind, at any time before notice of its acceptance given after the qualification date. An indication of interest involves no obligation or commitment of any kind.
# # #
About Homeworld
The original Homeworld was developed by Relic Entertainment and launched in September of 1999 to critical success, winning over 50 Game of the Year awards and was credited with popularising the 3D real-time strategy genre. Blackbird Interactive was founded by former members of the Relic Entertainment Homeworld team, including CEO and Art Director Rob Cunningham and Lead artist Aaron Kambeitz. After its founding, BBI began working on a game they considered the spiritual successor to Homeworld, and then partnered with Gearbox (the now IP holder and game publisher) to release Homeworld: Deserts of Kharak.
About Blackbird Interactive
Blackbird Interactive Inc. (BBI) is an independent game development studio, located in Vancouver, British Columbia, Canada. It is dedicated to creating uncompromising, immersive games with a strong narrative and distinctive art style.
BBI was founded in 2007 by a team of former Relic Entertainment and Electronic Arts employees. In true start-up fashion, the company began in the garage of CEO Rob Cunningham. After outgrowing Rob's garage BBI released its first game, Homeworld: Deserts of Kharak in 2016 to critical acclaim. In 2019 BBI moved into a brand new 29,000 square foot studio and is currently working on numerous unannounced AAA titles.
About Gearbox Publishing
Founded in 2016, Gearbox Publishing was established with the goal of helping developers around the world bring their products to market while retaining their unique creative visions. The mission began with the critically-acclaimed Homeworld Remastered Collection for PC, and have since been followed by many partnerships that include Compulsion Games' We Happy Few, Hopoo Games' Risk of Rain 2, Epic Games' Fortnite, tinyBuild's Hello Neighbor¸ and People Can Fly's Bulletstorm. Gearbox Publishing continues to remain committed to its mission to entertain the world and become the most developer-friendly publisher in the industry. Learn more at https://www.gearboxpublishing.com.