The Loader Returns to Risk of Rain 2 With New Features in Skills 2.0 Update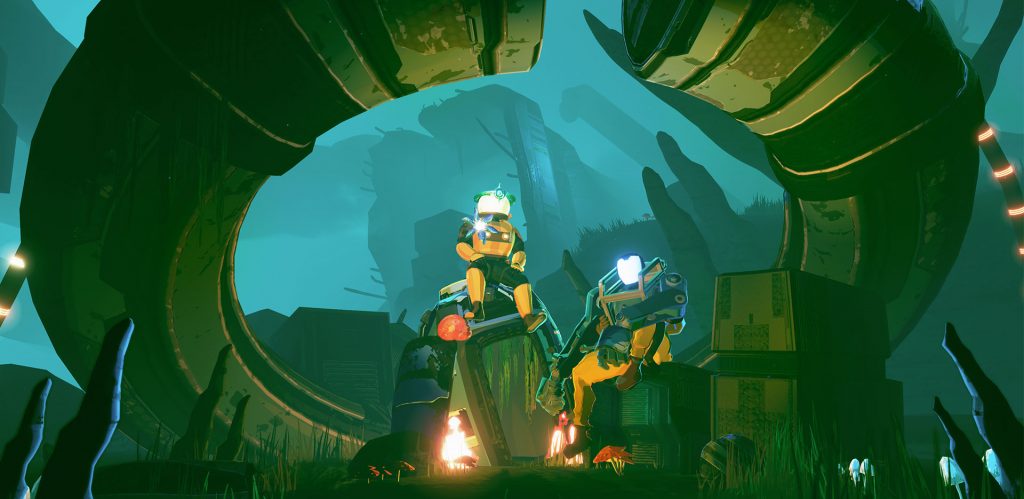 Customize Survivor Loadouts With More Skills, Conquer a New Stage, and More
FRISCO, Texas – Sept. 17, 2019 – Hopoo Games and Gearbox Publishing today released Skills 2.0 Update for Risk of Rain 2 on Steam Early Access. The Loader returns from the original Risk of Rain with the addition of a new stage, a new boss, the ability to earn new skills, and customize Survivor loadouts. Check out the new trailer and learn more about all of these features below.
Trailer: https://youtu.be/84_c-s0Vp68
The Loader fits the role of a bruiser that excels at grappling and up-close combat, including the following skills:
Passive: Scrap Barrier – The Loader is immune to fall damage. Striking enemies with the Loader's gauntlets grants a temporary barrier.
Primary Fire: Knuckleboom – Swing at nearby enemies for 320% damage.
Secondary Fire: Grapple Fist – Fire your gauntlet forward, pulling you to the target.
Utility: Charged Gauntlet – Charge up a massive punch for 600%-2700% damage that sends you flying forward. Deals significantly more damage the faster you are moving.
Special: M551 Pylon – Throw a floating pylon that zaps up to 6 nearby enemies for 100% damage. Can be grappled.
New game features:
Skills 2.0 – Each Survivor has a new set of survivor-specific Challenges that, once completed, unlock new individual skills or skins for that respective Survivor. Mix and match skills and fine-tune a Survivor's kit to perfection! More skills and skins will be added in future updates.
Siren's Call – Dive into the mossy depths of Siren's Call and challenge its unique boss.
New Items and Equipment – New dangerous additions made to the Survivors' ever-growing library of tools of the trade.
Press and media can find assets for Risk of Rain 2 here.
Risk of Rain 2, developed by Hopoo Games and published by Gearbox Publishing,  is a third-person roguelike shooter that earned over one million sales within its first month in Steam Early Access. Squad up with up to three friends in Risk of Rain 2 on Steam Early Access, Xbox One, PlayStation®4, and Nintendo Switch™ today.
About Hopoo Games
A small team who started out as two students from the University of Washington, Hopoo Games made their mark with the award-winning indie success, Risk of Rain in 2013, followed by Deadbolt in 2016. Now a team of indie veterans, they've been hard at work on a hotly anticipated sequel to Risk of Rain featuring 3D graphics and third person shooter mechanics. Learn more at http://hopoogames.com/.
About Gearbox Publishing
Founded in 2016, Gearbox Publishing was established with the goal of helping developers around the world bring their products to market while retaining their unique creative visions. The mission began with the critically-acclaimed Homeworld Remastered Collection for PC, and have since been followed by many partnerships that include Epic's Fortnite, tinyBuild's Hello Neighbor, and Compulsion Games' We Happy Few. Gearbox Publishing continues to remain committed to its mission to entertain the world and become the most developer-friendly publisher in the industry. Learn more at https://www.gearboxpublishing.com.
# # #
Media Contacts
Gearbox Publishing
Austin Malcolm
Austin.Malcolm@gearboxpublishing.com
+1-972-312-8202
TriplePoint for Risk of Rain 2
gearbox@triplepointpr.com
+1-415-955-8500