Coveted Homeworld Art Book Returns Through Fig Campaign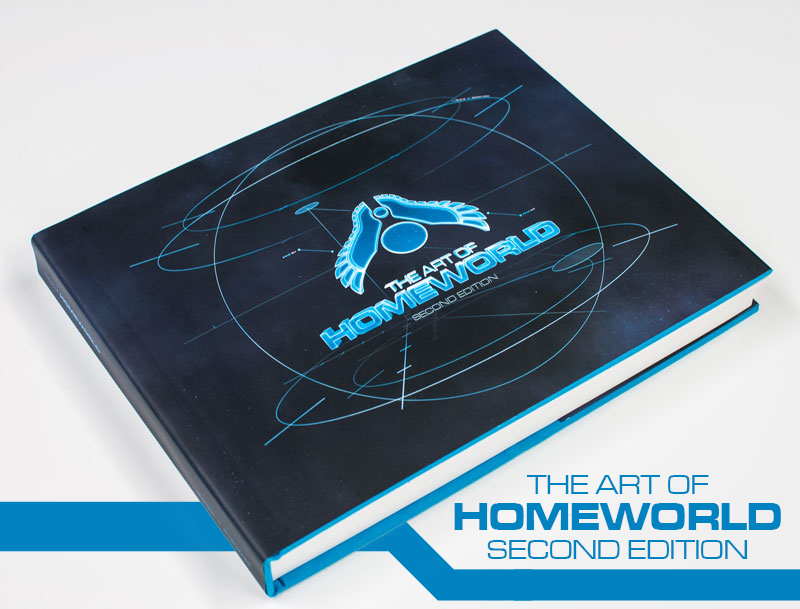 Out of print Art of Homeworld, which resold for upwards of $1000, returns as part of a new bundle for Homeworld 3's Fig campaign
Frisco, TX, September 19, 2019 –  Homeworld 3 is approaching its last 10 days of the Fig campaign, and with over $800k raised so far, it's on track to raise over one million dollars. As a response to the passionate Homeworld community, Gearbox announced in a Fig update a reprint of the rare Art of Homeworld art book which fans can buy through a Fig pledge.
Priced at $300, the new Fig pledge tier will include the 2nd edition art book, bundled with five 5×7 prints of Homeworld 3 art, and the Collector's Edition of Homeworld 3. To help preserve the value of these first editions, the new set of books will clearly be labeled "2nd edition". The bundle is limited to 5,000 units, so if you want it, hop in right now to guarantee your copy. 
Years ago when working on Homeworld Remastered Collection, the Gearbox crew worked directly with Blackbird's Rob Cunningham and Aaron Kambeitz to lovingly craft a dedicated, 236-page art book for Homeworld, called The Art of Homeworld. The artbook sold out within minutes and now, the coveted book can be found by resellers for upwards of $1000.00.
So far, BBI and Gearbox have provided two updates on the project – one personally thanking fans with a video from BBI's Rob Cunningham. The most recent update confirmed the commitment to a ballistics style weapon system similar to Homeworld 1 (rather than the deterministic system in Homeworld 2), to overwhelmingly positive reception from backers so far.
The teams are so excited to give back to the community through Fig's unique ability to enable longtime Homeworld fans to become investors and participate in the game's future success. Fig has a track record of success with critically acclaimed games such as Outer Wilds, which had a 220% return for those who invested through Fig. Specific to the Homeworld 3 campaign, investments and pledges provide players a chance to tell the developers what they expect of Homeworld 3 via a backer-only survey. This survey would include things such as its features, priorities, and even what the collector's edition will include.
If you missed the original announcement at PAX West, Gearbox Publishing together with Blackbird Interactive (BBI) announced that Homeworld 3 is now in pre-production 20 years after the first installment. Homeworld 3 will be a true sequel to the legendary space-faring RTS. Blackbird Interactive takes the helm on development, returning the series to its roots with a gripping continuation of the story, fully 3D combat, and the classic RTS elements you expect. In this process, they will be further supported by the veterans of Homeworld Remastered Collection at Gearbox Publishing.
The Fig campaign will continue until September 30 with the opportunity to invest or simply pre-order the game and follow its journey. Make sure to join the Homeworld fleet soon!
For more information, please visit www.fig.co/campaigns/homeworld3
Press Kit: https://gearboxsoftware.box.com/s/q1keil8ctdagsrtwhyuptekrlual5sl0
For media requests, please contact Austin Malcolm at Austin.Malcolm@gearboxpublishing.com
In regard to any securities offered under Regulation A+, no money or other consideration is being solicited, and if sent in response, will not be accepted. No offer to buy such securities can be accepted and no part of the purchase price can be received until the offering statement relating to such securities is qualified by the U.S. Securities and Exchange Commission, and any such offer to buy may be withdrawn or revoked, without obligation or commitment of any kind, at any time before notice of its acceptance given after the qualification date. An indication of interest involves no obligation or commitment of any kind.
# # #
About Homeworld
The original Homeworld was developed by Relic Entertainment and launched in September of 1999 to critical success, winning over 50 Game of the Year awards and was credited with popularising the 3D real-time strategy genre. Blackbird Interactive was founded by former members of the Relic Entertainment Homeworld team, including CEO and Art Director Rob Cunningham and Lead artist Aaron Kambeitz. After its founding, BBI began working on a game they considered the spiritual successor to Homeworld, and then partnered with Gearbox (the now IP holder and game publisher) to release Homeworld: Deserts of Kharak.
About Blackbird Interactive
Blackbird Interactive Inc. (BBI) is an independent game development studio, located in Vancouver, British Columbia, Canada. It is dedicated to creating uncompromising, immersive games with a strong narrative and distinctive art style.
BBI was founded in 2007 by a team of former Relic Entertainment and Electronic Arts employees. In true start-up fashion, the company began in the garage of CEO Rob Cunningham. After outgrowing Rob's garage BBI released its first game, Homeworld: Deserts of Kharak in 2016 to critical acclaim. In 2019 BBI moved into a brand new 29,000 square foot studio and is currently working on numerous unannounced AAA titles.
About Gearbox Publishing
Founded in 2016, Gearbox Publishing was established with the goal of helping developers around the world bring their products to market while retaining their unique creative visions. The mission began with the critically-acclaimed Homeworld Remastered Collection for PC, and have since been followed by many partnerships that include Epic's Fortnite, tinyBuild's Hello Neighbor ̧ and Compulsion Games' We Happy Few. Gearbox Publishing continues to remain committed to its mission to entertain the world and become the most developer-friendly publisher in the industry. Learn more at https://www.gearboxpublishing.com.