We Happy Few's First DLC They Came From Below is Out Now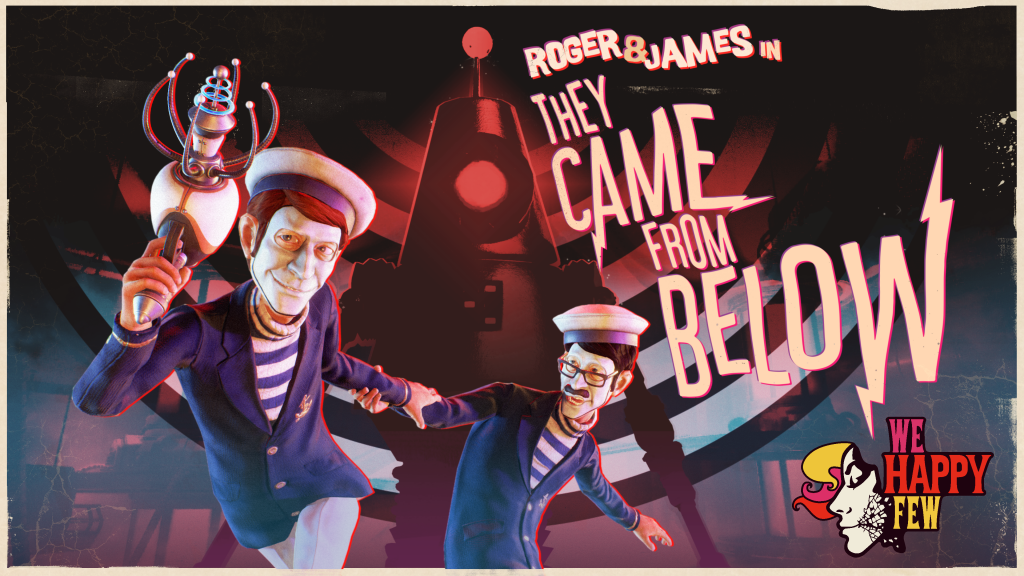 Don't be a Downer, it's time to return to Wellington Wells for a classic sci-fi adventure
FRISCO, Texas – Apr. 4, 2019 – Today is the launch of We Happy Few's first DLC, They Came From Below.
Check out the new trailer here: https://youtu.be/-jYCxAnvvic
In the first piece of handcrafted Season Pass content, familiar faces and previously NPCs, James & Roger return in an all-new We Happy Few story. Wellington Wells stands besieged by a robot uprising, but the mechanized menace isn't the only thing threatening to tear our pair apart. Play as Roger and team up with your boyfriend James to Find Dr. Faraday, explore a vast underground laboratory, and discover the source of the robot invaders before it's too late!
New Features for They Came From Below:
 Following up from the award-nominated writing of We Happy Few, enjoy a brand new story in Wellington Wells with a classic sci-fi twist
Adventure into 100% handcrafted new areas and levels, like Dr. Faraday's secret laboratory
Take up shining new weapons and tools like the transforming ray gun and the time-slowing Chronobomb to test the mettle of a cadre of new robot foes
Uncover the puzzling purpose of the Curious Device and feel clever doing it
Stay focused on the mission and adventure—crafting, survival, and Joy mechanics have been removed from this adventure.
Challenge yourself in a new boss fight unlike any other in We Happy Few
This DLC (and the following two) are part of the We Happy Few Season Pass for $19.99 or individually for $7.99, found on Steam, GOG.com, the Microsoft Store, and the Official PlayStation® Store.
For more information, become a fan on Facebook, subscribe on YouTube, follow We Happy Few on Twitter and Instagram and join the conversation using the hashtag #WeHappyFew.
The trailer, logos, screenshots, and other resources for They Came From Below can be found here: https://gearboxsoftware.box.com/s/0oq91ppf8qamu7jyei9dnhlkg7p61agp
About We Happy Few
We Happy Few is the tale of a plucky bunch of moderately terrible people trying to escape from a lifetime of cheerful denial in the city of Wellington Wells. In this alternative 1960s England, conformity is key. You'll have to fight or blend in with the drug-addled inhabitants, most of whom don't take kindly to people who won't abide by their not-so-normal rules. Discover the retrofuturistic city's dark history as you play through the intertwined narratives of three quietly rebellious citizens of Wellington Wells, each with their own strengths and weaknesses, as they face their pasts, prepare for the future, and engage in activities that aren't exactly status quo in the artificially enthused society.
About Compulsion Games
Founded in 2009, Compulsion Games is a small studio based in an old gramophone factory in Montreal. Compulsion is dedicated to crafting games with surreal worlds, emotionally truthful characters, and a rockin' art style. They shipped their first title, Contrast, in 2013.
About Gearbox Publishing
Founded in 2016, Gearbox Publishing was established with the goal of helping developers around the world bring their products to market while retaining their unique creative visions. The mission began with the critically-acclaimed Homeworld Remastered Collection for PC, and have since been followed by many partnerships that include Epic's Fortnite, tinyBuild's Hello Neighbor¸ and Compulsion Games' We Happy Few. Gearbox Publishing continues to remain committed to its mission to entertain the world and become the most developer-friendly publisher in the industry. Learn more at https://www.gearboxpublishing.com.
# # #
Media Contacts
Gearbox Publishing
Austin Malcolm
Austin.Malcolm@gearboxpublishing.com
+1 972 312 8202